How To Choose The Right Business Card Paper Type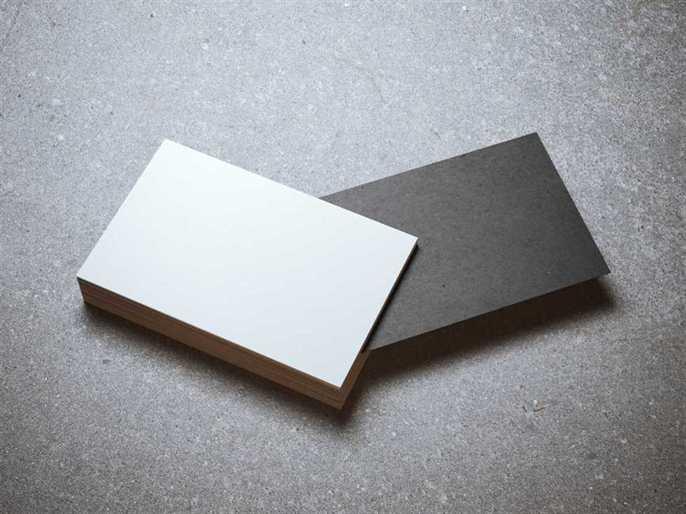 Business cards do more than share your contact information—they also represent your services and give clients something to remember you by.
When you hand out your business card, you shouldn't feel embarrassed about its lacklustre design. You should be proud to put your logo on a card that you distribute at networking events, after presentations, and to potential clients.
So, would you be interested in a specialty coating to make your business card more unique?
The design process isn't always straightforward; there are many options to choose from. To help guide you through the process, we've put together some information about design choices and different types of business cards.
Which Industry are You In?
For some businesses, certain styles are more appropriate than others:
If you work in the healthcare industry, you may want to keep your card clean and to the point.

What if your business specializes in design? Then it becomes especially important to design a stylish card—it's representative of your services!

A business consultant may want a highly professional card. They might prefer coatings and finishes that are modern, sleek, and cutting-edge.
Regardless of your industry, working with a printing company will make your business card more effective.
Types of Business Cards
Feeling overwhelmed? No problem. Here's a look at some of the most common finishes and stock types available to you:
Painted Edges
Maybe you'd like to keep the colours on the card itself conservative. You want the focus on your contact information rather than your design choices. If so, you can reserve the edges for a pop of your signature colour. Painted edges make your business card stand out from the rest.
Raised Spot UV
A glossy coating is sure to catch the eye. Raised spot UV is great for making your logo stand out from other elements on the card.
White Plastic Cards
Who says that business cards need to be made of paper at all? Designing your business card more like a credit card makes it easy to slip into a pocket or wallet. Plastic cards are more durable than paper—they won't get wrinkled or torn when you carry them around.
Suede
Why not give your business card a bit of extra texture? These cards feel like soft velvet instead of rough paper. Pair your suede card with raised spot UV logo for eye-catching emphasis.
Matte finishes are smooth, non-reflective, and undeniably professional. These coatings make it easier for recipients to write notes on the card; with a glossy finish, ink often smudges.
You might have a hard time passing out these business cards—they're so well-designed that you'll want to keep them for yourself!
Foil
A highly reflective pop of foil will transform any business card. This metallic finish can look elegant with select letters and logo elements.
Looking for a Printing Company?
You don't want to entrust just any company with designing and printing your business cards. After all, your name is attached to them; they represent your brand.
If you still aren't sure which paper type is right for you, Print Pro can help. Get in touch with us for a free design consultation! With our wide selection of stocks, coatings, finishes, and inks, we can create a truly memorable design.
If you're looking for business card printing in Winnipeg, contact Print Pro. Together, we'll create a card that you will be proud to put your name on.